Klon Centaur type clone parts layout and wiring diagrams
Back to the Home page

Huge kudos goes to Japanese forum member Shake, Steve aka: Bajaman, Martin aka: Soulsonic, and all the others at freestompboxes.org that made this wonderful project possible.

Please note: I or this website is in NO way affiliated, in any way, shape or form with freestompboxes.org, NOR any of its public forum members, such as the members listed above.

freestompboxes.org does NOT endorse I or this website in any way, shape or form.

Klon Centaur clone (klone) electronic parts net list:

Resistors:

R1 10k
R2 1M
R3 100k
R4 560 R
R6 10k
R9 1k
R11 15k
R13 1k
R14 3.9k (off circuit board resistor for driving the red LED) I personally use a 240R-330R resistor for use with clear super bright LED's. Use your imagination for color choice :-)
R15 27k
R16 47k
R17 27k
R19 15k
R21 1.8k
R22 100k
R23 4.7k
R24 100k (install on stompswitch)
R25 560 R
R26 68k (install on stompswitch)
R27 68k (install on stompswitch)
R28 100k
R29 27k
R30 27k
R5 4.99k .25 watt Metal Film 1%
R7 1.5k .25 watt Metal Film 1%
R8 1.5K .25 watt Metal Film 1%
R10 2k .25 watt Metal Film 1%
R12 422k .25 watt Metal Film 1%
R18 12k .25 watt Metal Film 1%
R20 392k .25 watt Metal Film 1%

*All resistors are .25 watt carbon film 5% except those italicized

Capacitors**:

C1 100n
C3 180n
C4 150n
C5 47n
C6 330n
C7 68n
C8 390 picofarad
C11 6.8n
C12 18n
C13 820 picofarad
C14 3.9n
C10 1mf 25V Electrolytic (polarized)
C2 4.7mf 25V Electrolytic (polarized)
C9 1mf 25V Electrolytic (polarized)
C15 4.7mf 25V Electrolytic (polarized)
C16 1mf 35V Tantalum (polarized)
C17 47mf 25V Electrolytic (polarized)
C18 47mf 25V Electrolytic (polarized)
C19 4.7mf 25V Electrolytic (polarized)
C20 1mf 25V Electrolytic (polarized)
C21 1mf 25V Electrolytic (polarized)
C22 1mf 25V Electrolytic (polarized)

**All capacitors are Panasonic. Non-polarized Caps are ECQ series film type.
Polarized are M series. All Caps are 50v unless noted otherwise.

Footswitch:

Carling 316P DPDT (Alpha can be used or other DPDT)
A 3PDT Cliff or Electro-Harmonix type stompswitch can also be used, just ignore one row of pin lugs (center is fine).

Jacks:

Generic brand, Neutrik, or Switchcraft brand quarter inch jacks for input and output
Stereo jack for input, and mono jack for output

DC power jack/ and a decent heavy duty solid plastic 9V battery clip (optional)

Potentiometers:

CTS 24mm Carbon type (450 series) (Alpha 24mm or 16mm can be used)
P1 100kB (gain) dual gang. Custom ordered part on orginal Klon Centaur Professional Overdrive boutique pedal (nothing special apparently)
P2 10kB (treble)
P3 10kB (output)
The above pots are all linear, and the Alpha 24mm or 16mm type can be ordered from Small Bear electronics, please
make note of their drop down menus.

Diodes:

D1 Red LED (or any color you desire :-) I prefer the clear Super Bright LED variety, and I have many different colors, which I can choose from for custom ordered Klon Centaur Professional Overdrive boutique pedal clones
D2 1N34A Germanium type
D3 1N34A Germanium type
D4 1N4739A 9.1V 1W Zener (0.5W Zener can be used) I have corrected the part id #, with the correct part # February 18, 2010. Sorry, for the confusion this has caused. Oops.
D5 1N4001 or any 1N400X series rectifier diode
D6 1N4001 or any 1N400X series rectifier diode

*****Please note*****: I recently received a negative feedback from a disgruntled ebay customer who clearly does not know the difference between the "cathode" and "anode" end of a diode, and consequently ruined his Klon clone type circuit board, and is trying to blame the design of the circuit board for his failure to understand the markings on simple diodes. Intelligent informed minds will see beyond this ruse!!!

Remember basic electronics theory? Banded or striped end of a diode is the (+) Cathode side, and the other side is (-) Anode. School is out!

Op Amp:

U1 TL072CP
U2 TL072CP
(Other types can be used depending on your tone taste :-) As a general rule, you can use most any IC chip you would use in a tube screamer pedal. It is NOT necessary to change the buffer IC chip.

Integrated Circuit:

U3 ICL7660SCPA Please note: I include a Microchip Technologies TC1044SCPA "charge pump" IC chip (This charge pump IC from Microchip Technologies can be purchased from Mouser electronics)

***********************************************************************************************************************************************************************************************************************

---------- Original Message ----------
From: "Derrick" xxx@xxxmail.com
To: starbreaker@netzero.net
Subject: Klonerama!
Date: Thu, 6 May 2010 00:41:14 -0500 How does your Klon Klone compare with the JHS one? Are there any Youtube clips? Derrick in Houston,TX Hi Derrick,

Oh boy, I am afraid to step on this one. The old chestnut of an argument, "how can you compare something I have never owned or tried..."

I can safely say, that after building many of these neat Klon clones, that they are pretty darn good. The people that have purchased an assembled unit from me, and the many professional amplifier builders all report excellent results. This resulted in repeat sales, of multiple orders, which makes me happy, not entirely because of the money, as it is not that much, but because I like this new exciting area of electronics.

One older customer who has played as a professional guitar player for 35 years, tried this side by side with an early gold Klon Centaur, and states they are as close as can be, and it sounds good, sounds damn good! Nice for the readily available price.

This test was done with the custom built Canary gloss yellow Klon clone at my website. Nice looker. The customer likes the Beatles, and has dubbed it "The Yellow Submarine," with many applied water slide decals. Photos soon at my website.

I will be using a newly built Klon clone through possibly several amplifiers, but most notable a Soldano SLO, as one of my favorite players is Warren Haynes, who uses both a Klon Centaur Gold and a SLO. Nice combo in my book.

I will be doing a professional audio mixed and plain video of a youtube demo in the next 10 days with the SLO amp, and many guitars. I am a Fender Strat person, and I like the sounds of the Klon clone a lot. The professional audio and plain video will be shown on my website: http://www.buildyourowntone.com

The lousy compressed audio version will be shown on youtube. The high quality audio will be better to judge the sound and tone at my website. I am not a professional guitar player by any stretch of the imagination, but I do like to rock out!

My prototype Klon clone, that is a plain jane bare aluminum job is actually on tour with a Western Canadian band helping support their unique guitar sound and new CD. The band is "Scatterheart," and the guitar player played with local band "Bif Naked," which has a beautiful girl lead singer, with the biggest, exotic eyes that will bore through your soul!

A long time, jaded guitar store employee in Vancouver, BC Canada heard the Klon clone prototype played in person by a signed recording artist and was actually impressed, which takes some doing these days. This was done through a vintage amplifier, and I was very impressed. Got to talking too much, and I myself did not get to play a very nice vintage Jackson RR edition guitar through this vintage amplifier with my own Klon clone. I like to schmooze, LOL!

I like to play classic early 70's rock to the heaviest of the heavies, and the Klon clone makes me sweat and smile! I just can not stop playing! Many folks in the USA, and even that Vancouver, BC Canada recording artist have asked for slightly more "GAIN."

I stated perhaps, I will add this feature, but what gives? The Klon clone can belt out wicked heavy high gain tone with nice sustain. It is all "subjective," with player, guitar, amplifier and most importantly the settings of all, including the player. If you are not feeling it that day, or moment, everything will sound like crap.

I know, I am repeating what has been said many times before, "you gotta like your tone already, before the Klon clone can enhance your sound."

Bill Finnegan, and his long ago hired gun EE (now deceased in a tragic airplane crash during the late 90's) created a very unusual, unique design that has stood the test of time. Huge kudos to Bill.

Many people are afraid to use the GAIN, while others want more of it...I like all the Klon clone sounds, that I have built. I can NOT speak for JHS pedals, but I am sure Josh, has done a great job, as he has a good reputation in the pedal business.

I can only hope in my wildest dreams to "gain" (pardon the pun ;-) the same status as Josh and JHS pedals.

What makes a Klon clone better, in my opinion? You have choices. Choices for different TONE chips, different germanium diodes, or even low cost readily available signal diodes, if you prefer just for fun. At least it can be easily repaired, if need be.

It is a no nonsense little circuit, and I am grateful it has nothing to do with my old video signal recreation business, which involved analog cable decoders/ descramblers, etc.

I have adopted "Ming the Merciless," as a personal moniker, because I was hated, and dreaded by the large cable TV companies, and I knew that I would be the most hated person in the boutique pedal business, as this was discussed and predicted over a year ago, at my favorite steak house. This prediction came so very true, I wish I had made the huge monetary bet on this.

BTW, Texas, is probably te front runner for the most Klon clone circuit board and Klon clone kit sales. Texas, go BIG, or go home! I like Texas! Texans, think like I do. If it is in the way, mow it down, or roll over it, baby! No mercy from Ming!

Cheers,
Raymond Goncalves

******************************************************************************************************************************************************************************************************************************

Question:

Do you know of a website at which I could purchase the housing and other parts for my clone pedal?

Answer:

Sure do. Pedalpartsplus.com, smallbearelec.com

I have personally purchased from these online vendors. I really like pedal parts plus, because their enclosures are the best!

You gotta check out their metallic enclosures, which really are commercial grade and worthy of any boutique pedal.

You can use a Hammond style 1590B, or a slightly larger 1590BB (more breathing room for circuit board). Pedal parts plus has the NSC brand which is commercial grade.

Please shop and compare prices between Pedal parts plus, and Small bear electronics, because sometimes the prices are very different for the same item.

The other discrete electronic parts can be purchased from Digi-key, or Mouser. These are huge electronics suppliers, which I have purchased from in the past.

When you have finished the Klon clone, please send photos to me, and I will post them on my website.

Please note: Double and triple check before you solder your parts in the circuit board.

When in doubt, double and triple check. The reason I tell you this, is because unlike a single sided circuit board, double sided circuit boards are very difficult to undo a mistake. Double sided circuit boards, typically require a vacuum type desoldering tool to do repairs (commercial grade electric vacuum pump type is best).

Please use sockets for the IC chips, as you may want to change them for a different tone. I would use machine screw type 8 pin dip sockets (at least for the 2 identical IC chips). You can use the lower cost simple solder tail 8 pin dip socket for the charge pump IC chip, because you will not be changing this IC chip ever.

The use of IC chip sockets is a good idea, because it is easy to burn or fry an IC chip if you are not experienced with soldering. Heat destroys IC chips and semiconductors. Proceed slowly, and double check everything. Watch for the polarity of discrete electronic components, and for the IC chip orientation.

Enjoy and good luck with your build.

buildyourowntone.com Update: Tuesday May 07, 2013.

Please note: There is an important "error correction mod" that is necessary to be made to the Klon Centaur clone PCB that was produced in the last run batch. This was entirely my error, as I was too zealous with attempting to get the product out, and this tiny, small error slipped right by me. I paid too much attention to only one side of the klone PCB, and did NOT realize that 2 resistors were conjoined, when they should NOT have been.

Here is the error correction mod as follows:

The 1M and 1.5K resistors should NOT be conjoined together. This error is on ONLY one side of the klone PCB, the solder side, as shown in the photo. Just make a very small cut to separate the 2 conjoining thru-hole solder pads, and your job is done for the klone PCB error correction mod proceedure.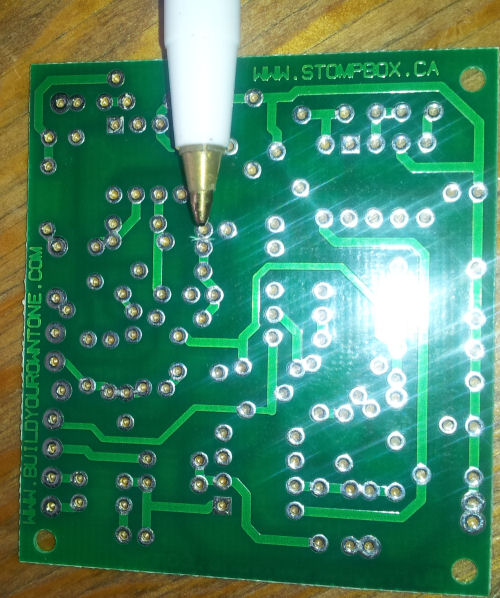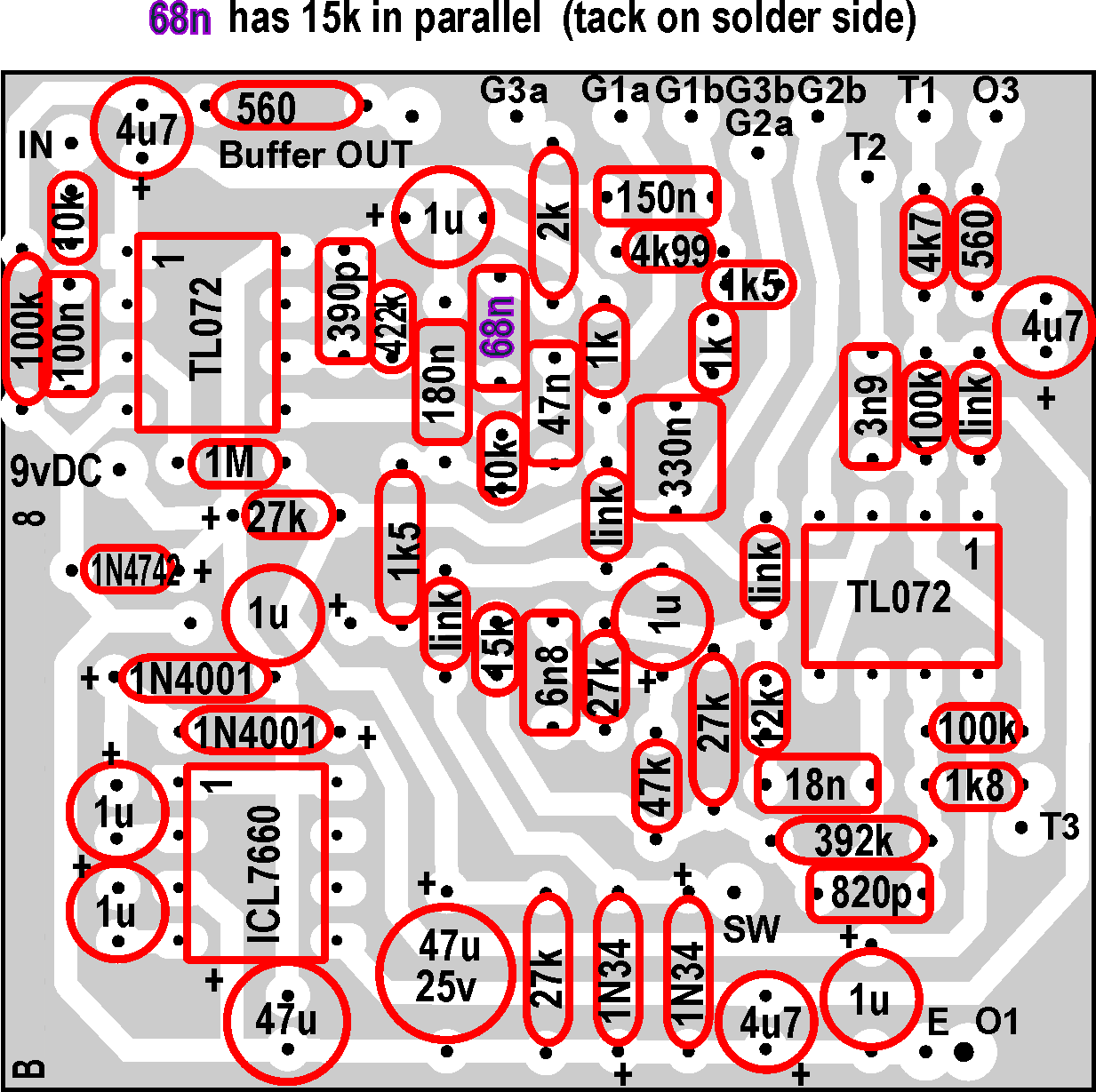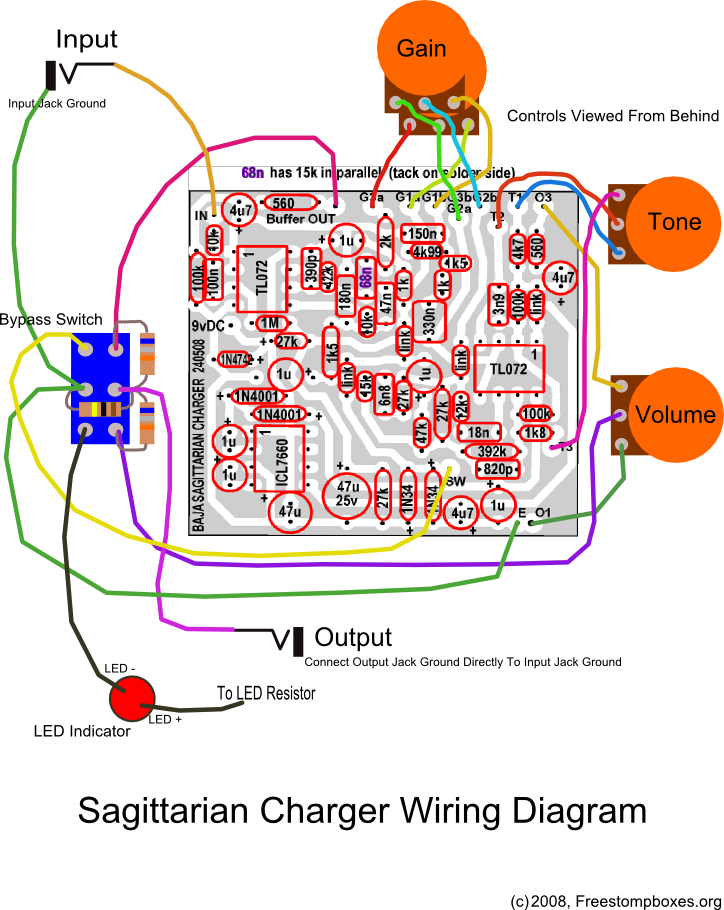 Klon Centaur clone circuit board photo 1
Klon Centaur clone circuit board photo 2
Klon Centaur clone circuit board photo 3
Klon Centaur clone circuit board photo 4
Klon Centaur clone circuit board photo 5
Klon Centaur clone circuit board photo 6
Klon Centaur clone circuit board photo 7
Klon Centaur clone circuit board photo 8
Klon Centaur clone circuit board photo 9
Klon Centaur clone circuit board photo 10
Klon Centaur clone circuit board photo 11
I assembled my 1st Klon Centaur clone March 20, 2010. On March 21, 2010 I housed my prototype Klon clone in an unpainted original Hammond 1590B type enclosure with a clear orange super bright LED using a fancy metal LED holder.
This is a fantastic neat overdrive/ booster boutique pedal. Do not hesitate to purchase a Klon Centaur clone, you will be glad you did.
See the assembled Klon Centaur clone type prototype photos here: Klon Centaur clone (Klone) is available for $240
This fantastic looking gloss yellow beauty of a Klon Centaur clone with a SB clear red LED was recently custom ordered and sold to a chap in VA, USA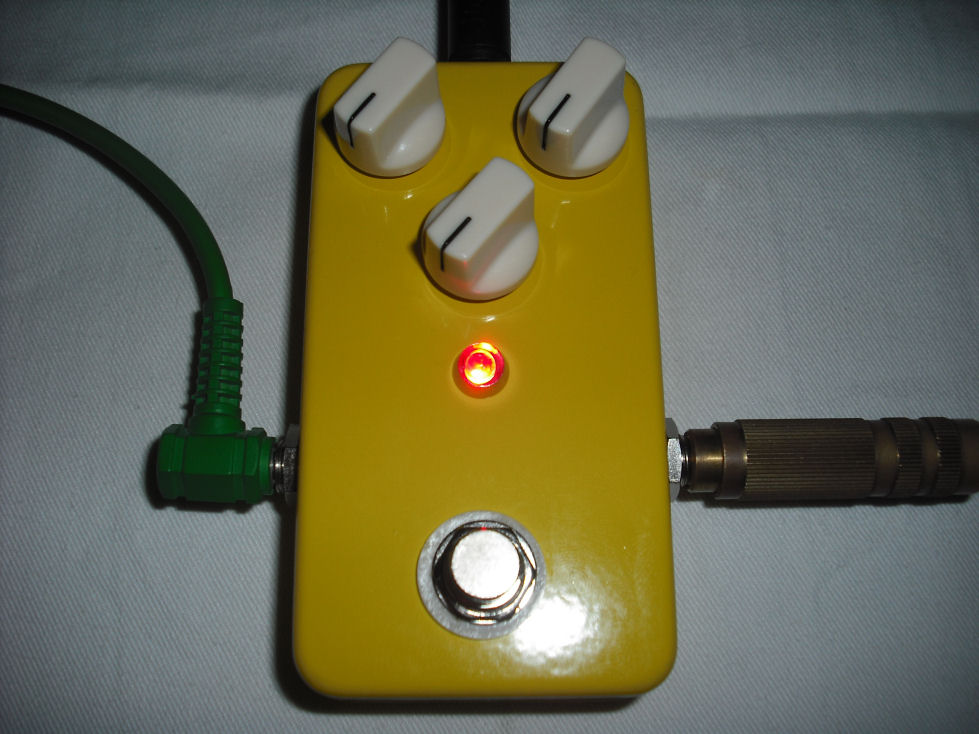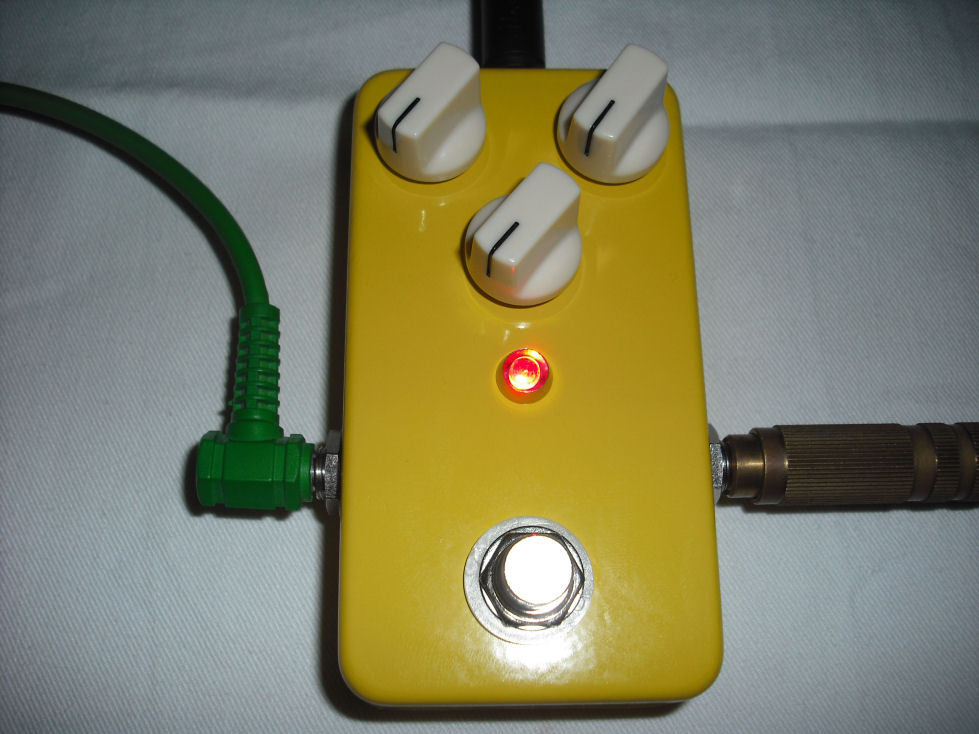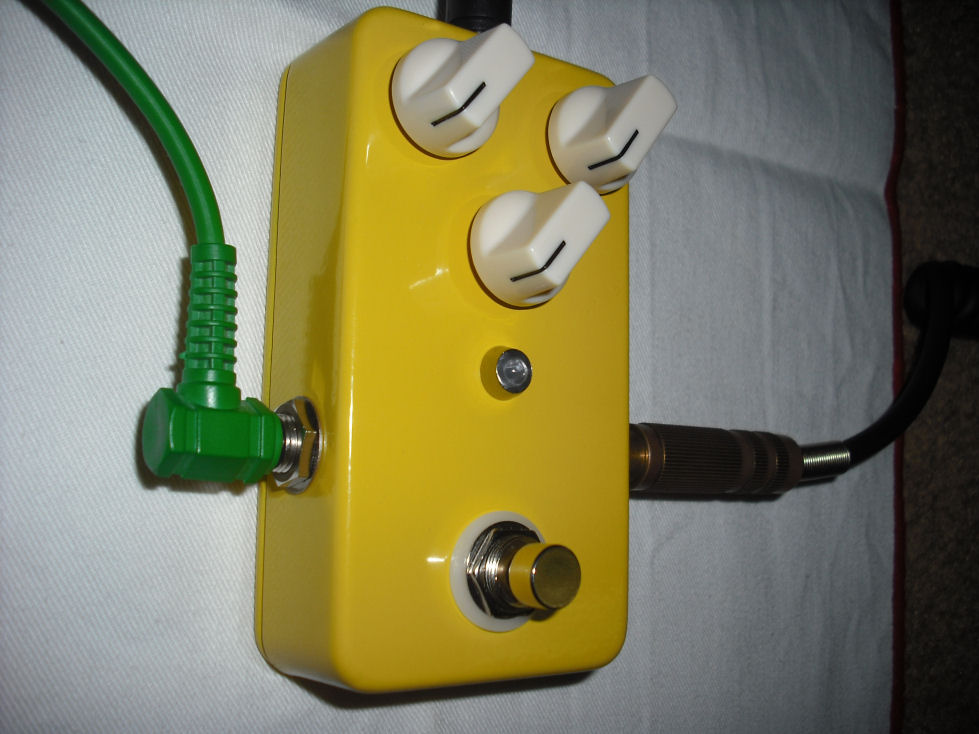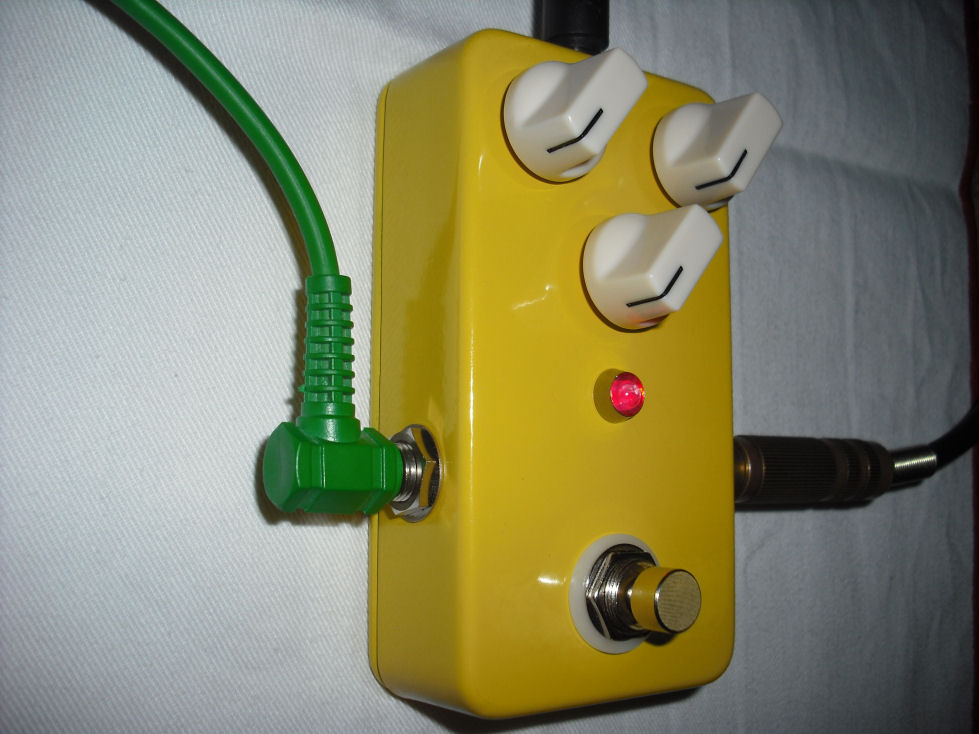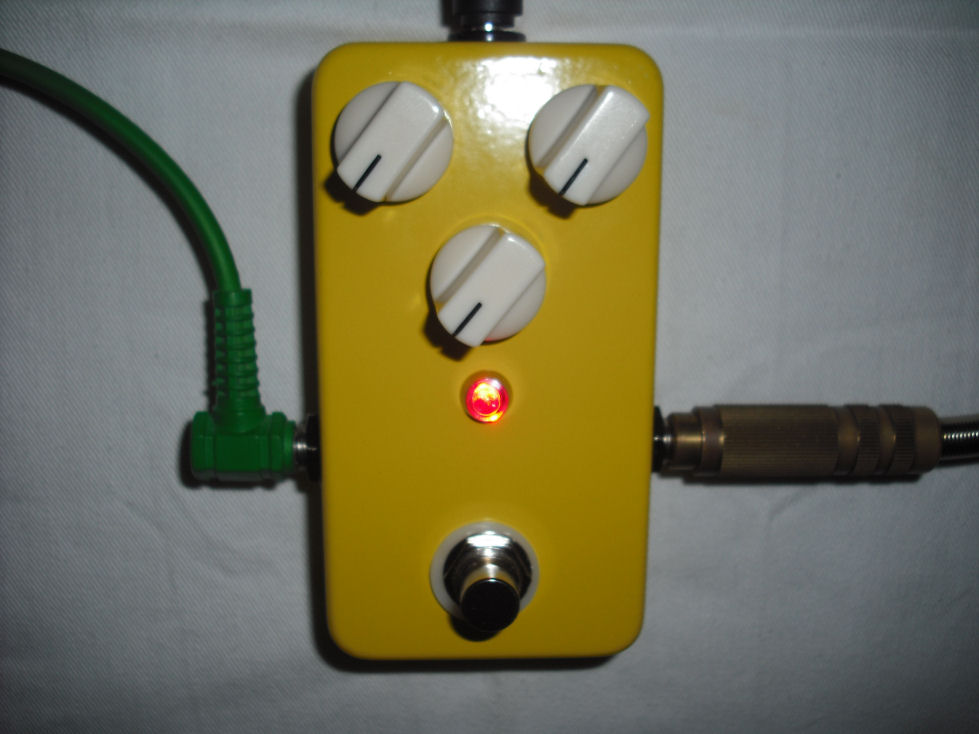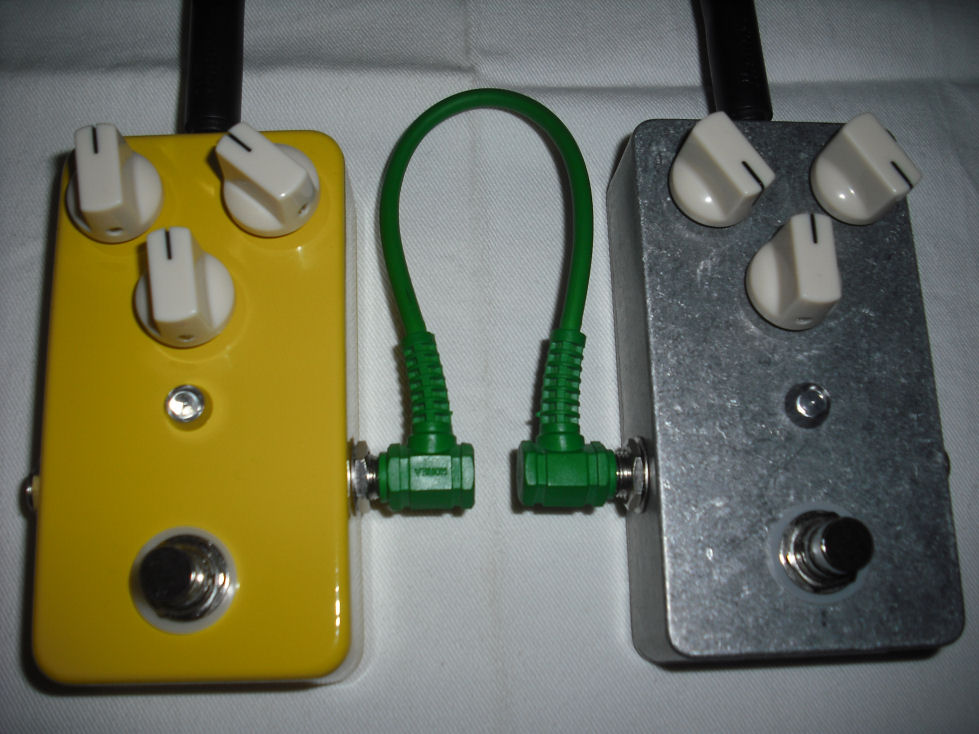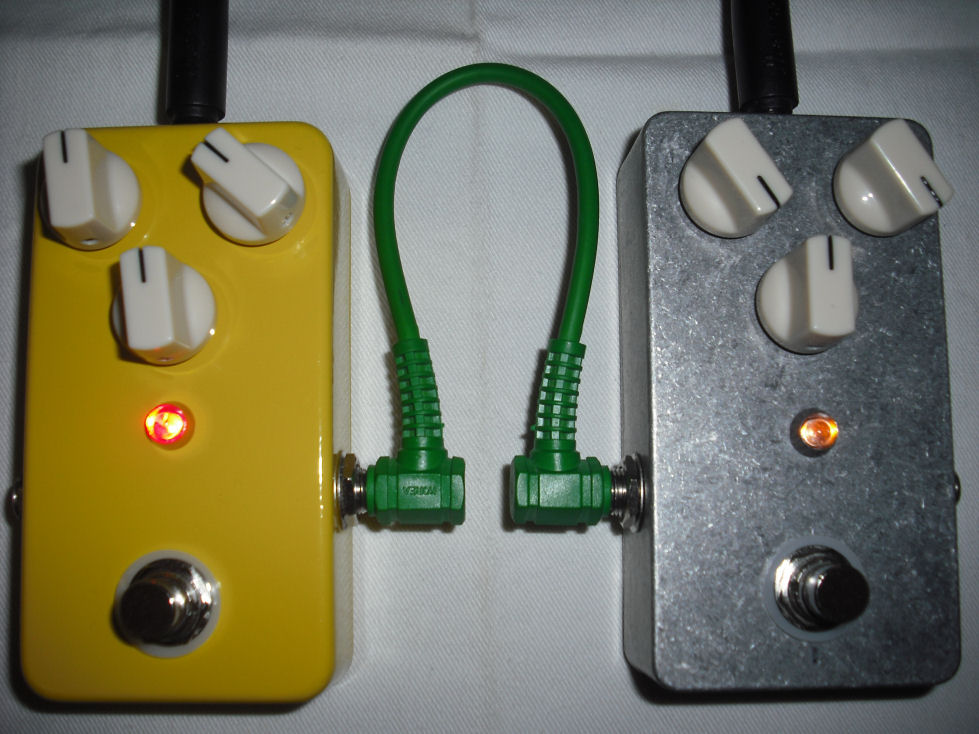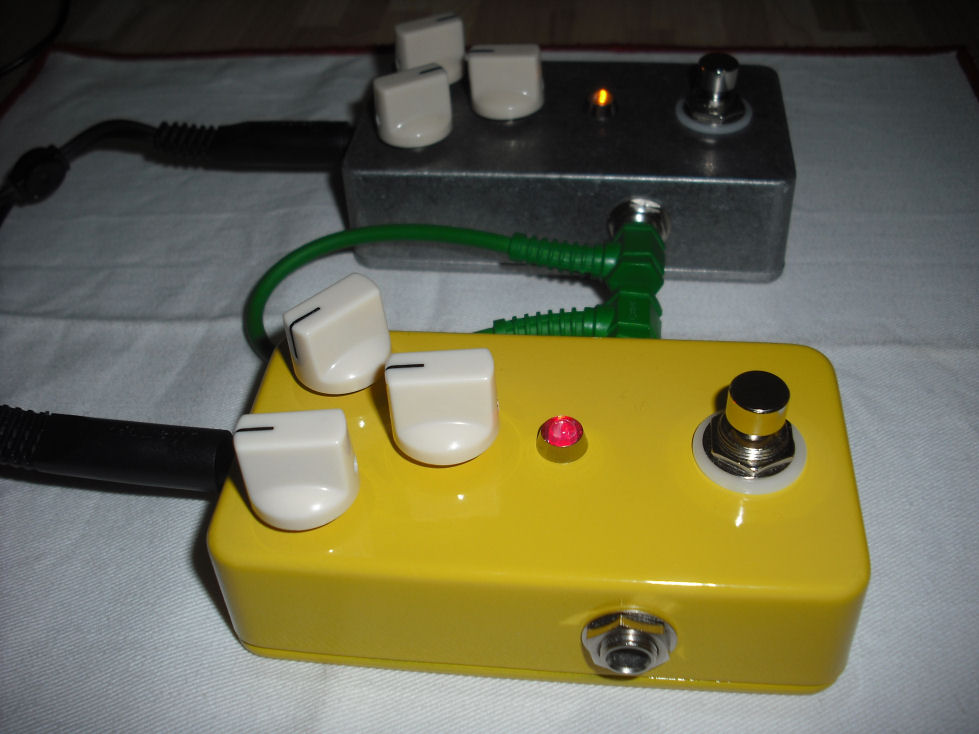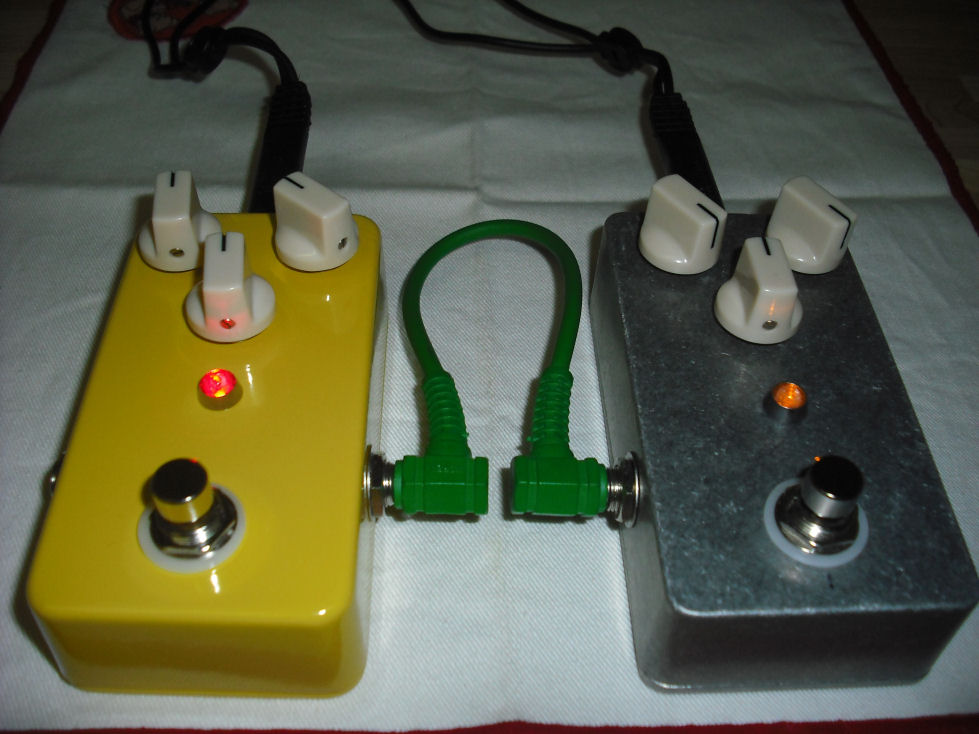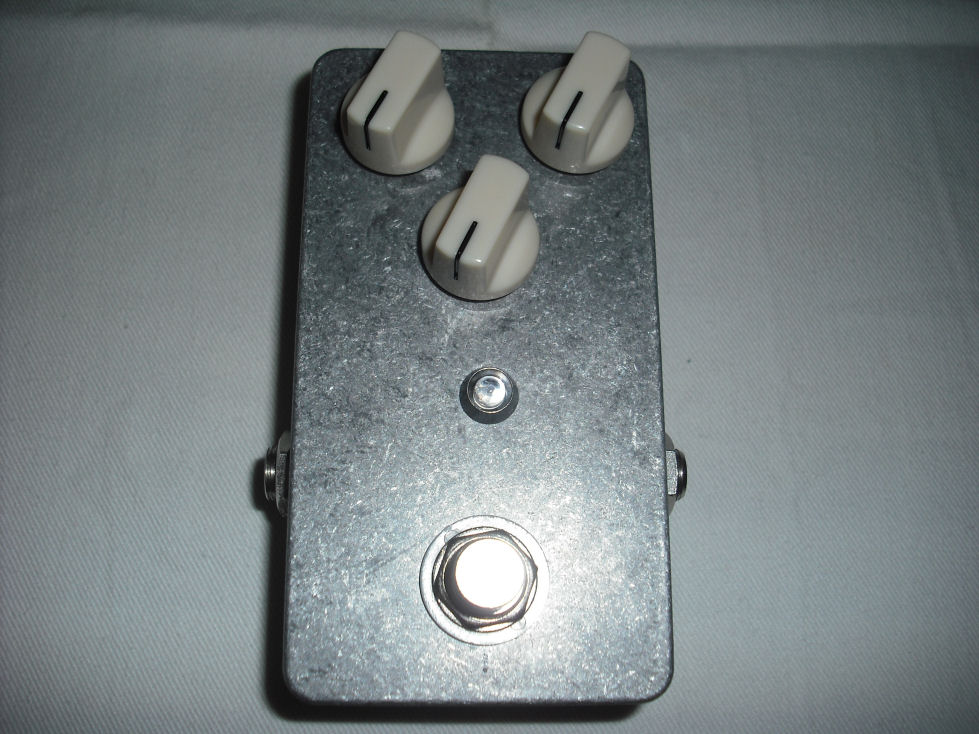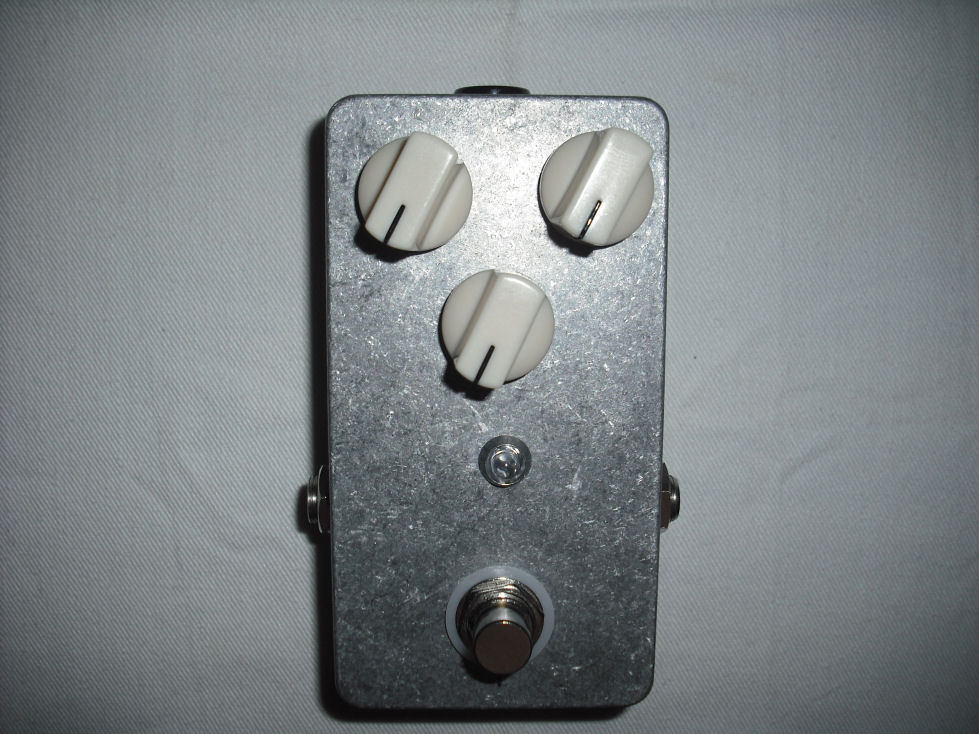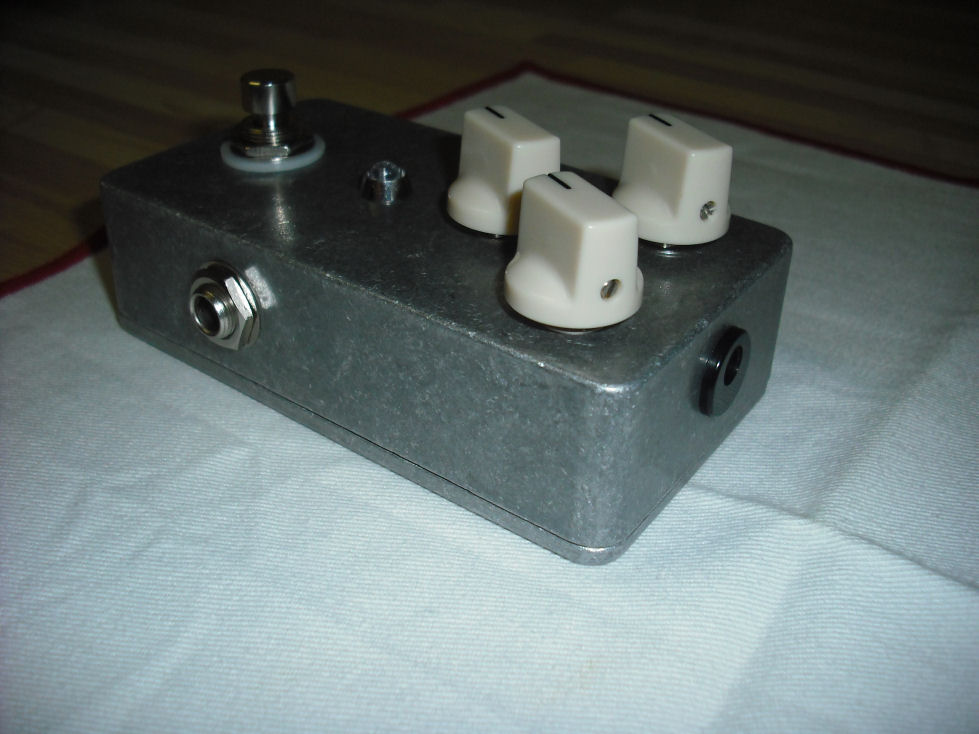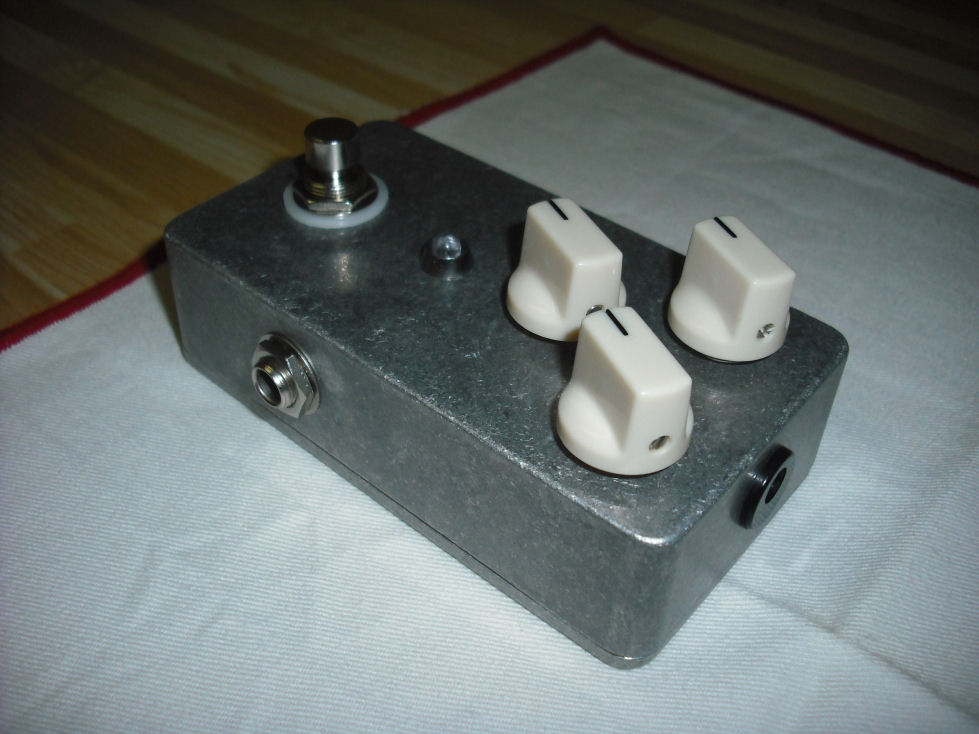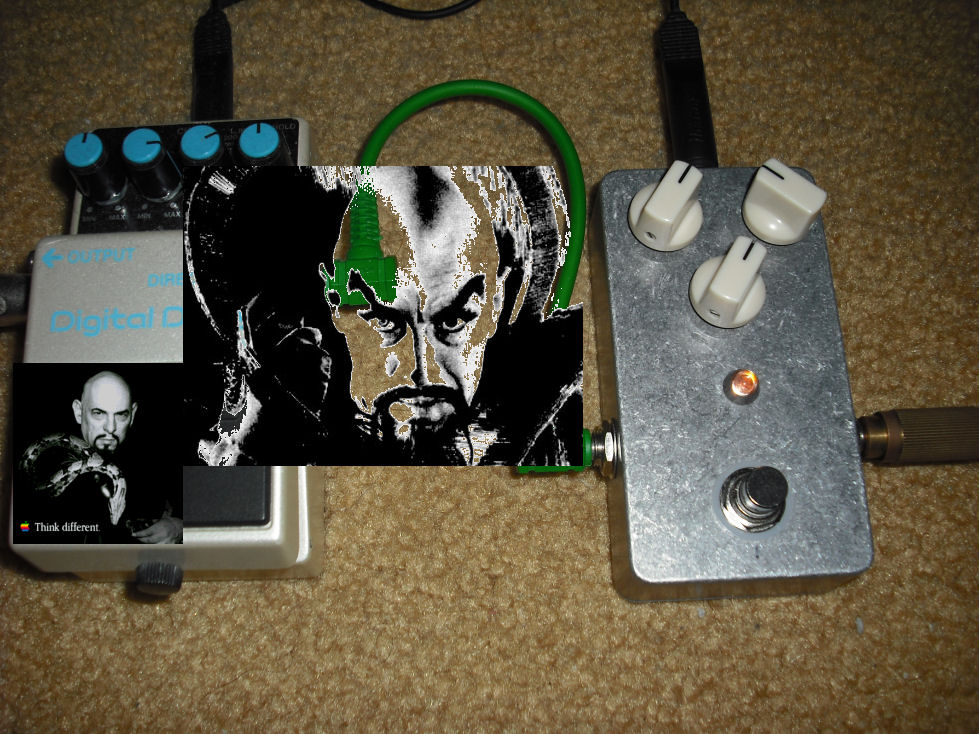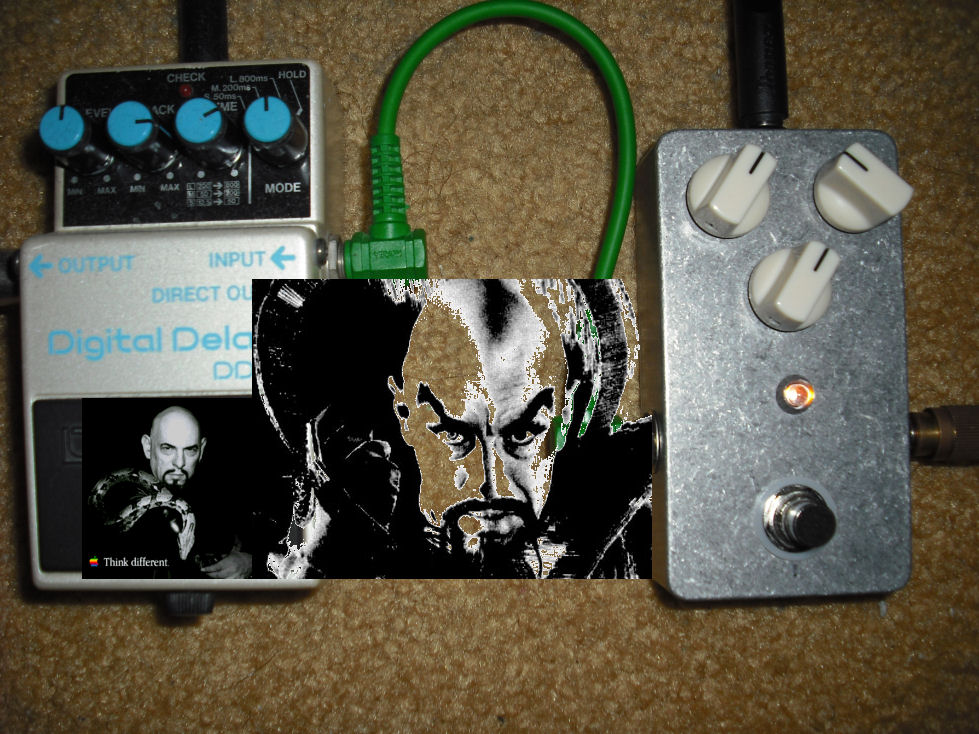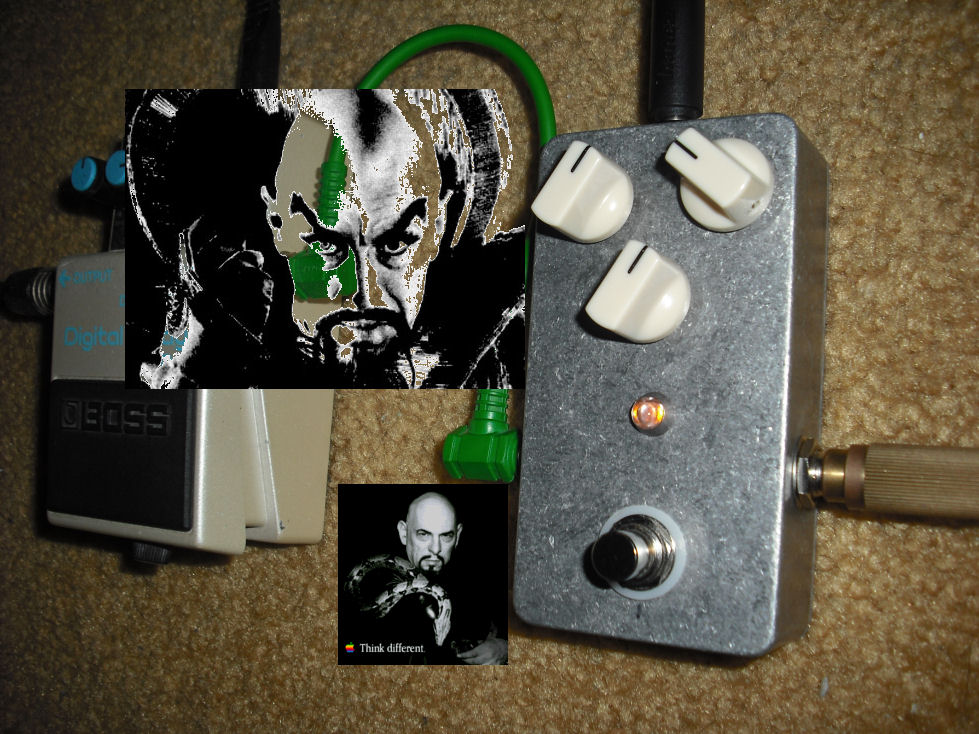 Parts layout and wiring diagram: Klon Centaur klone parts layout and wiring diagram including electronic component parts net list
Klon Centaur klones built by customers of the Klon Centaur clone type circuit boards. Yes, these circuit boards actually work, and baby they nail it!
Photos courtesy of:
John M of TX, USA
Tony H of CA, USA
Paul V of IL, USA
To see your own Klon Centaur clone boutique pedal kit build here, just contact me, and it will be done. Build Your Own Tone Klon clone circuit board builds only, thank you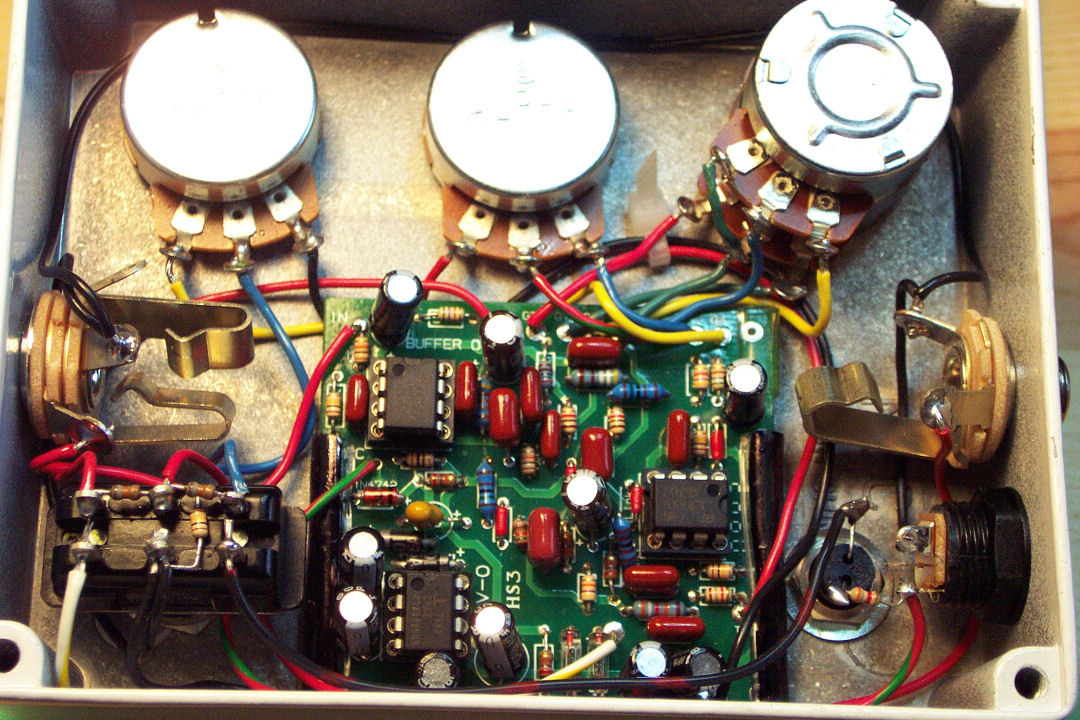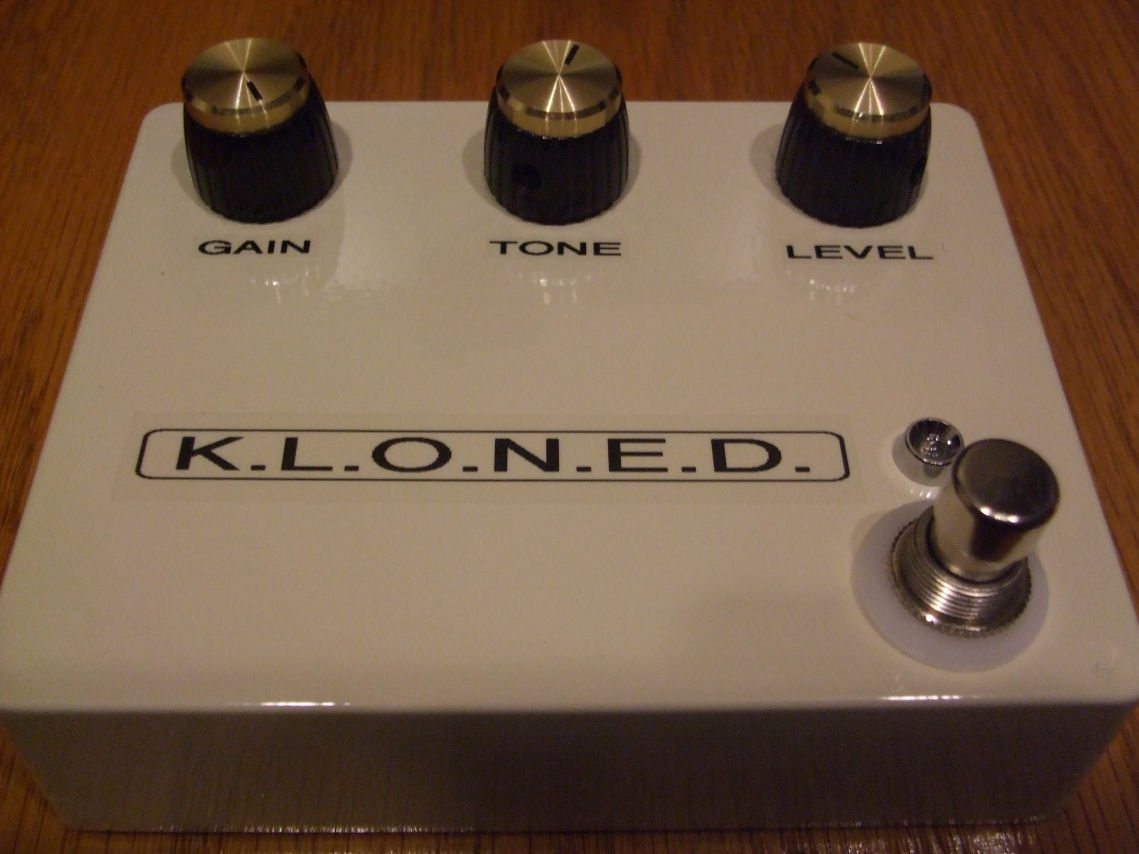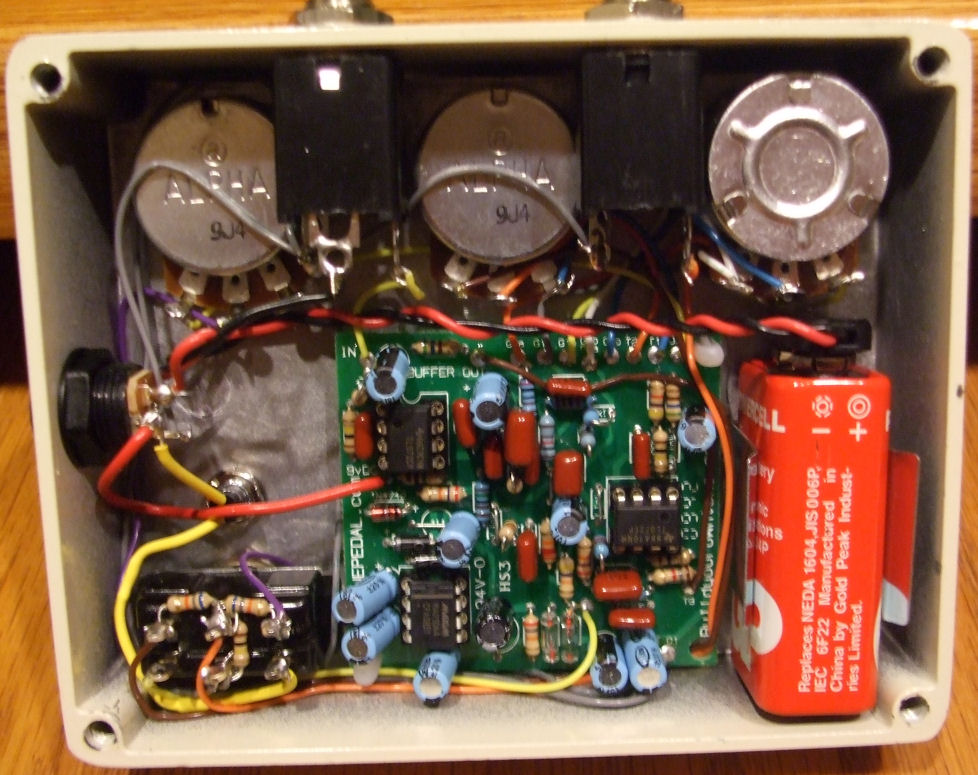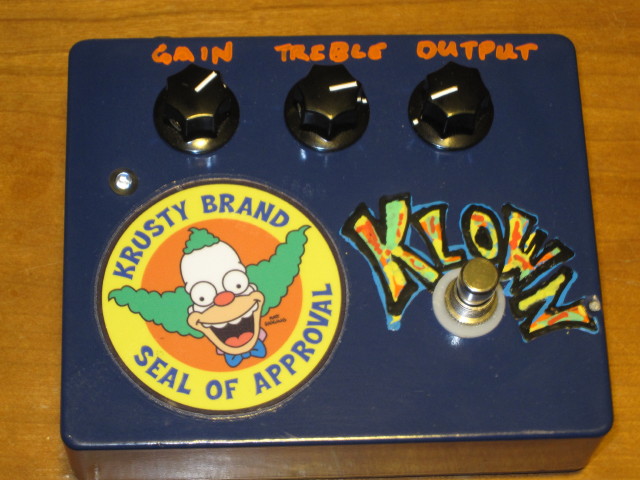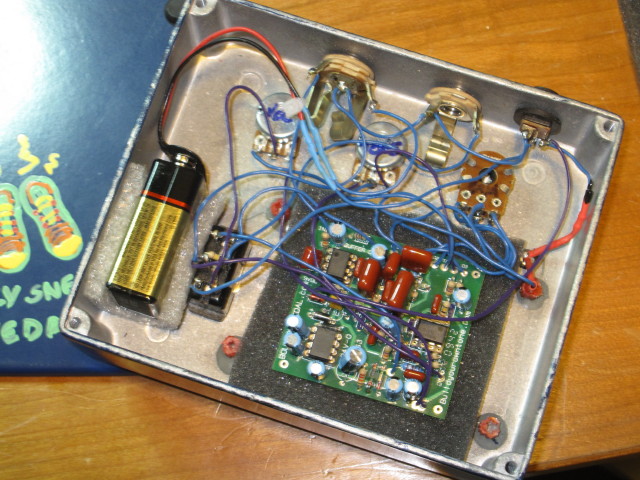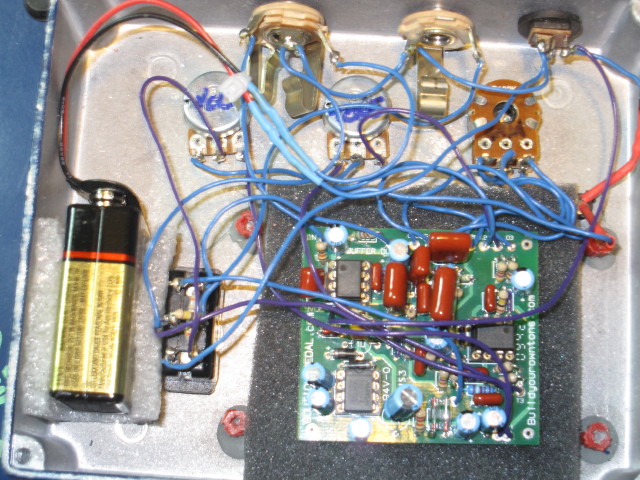 Back to the Home page

Huge kudos goes to Japanese forum member Shake, Steve aka: Bajaman, Martin aka: Soulsonic, and all the others at freestompboxes.org that made this wonderful project possible.

Please note: I or this website is in NO way affiliated, in any way, shape or form with freestompboxes.org, NOR any of its public forum members, such as the members listed above.

freestompboxes.org does NOT endorse I or this website in any way, shape or form.

© Buildyourowntone.com